Summary
In this guide, we will show to configure your Payment settings.
This functionality will allow to set your payment details such as your Account name, Account Number, Go Cardless Email Address, etc...
Step by Step Guide
1. From the home page, go to System Configuration

2. Go to Settings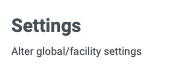 3. Go to Manage Settings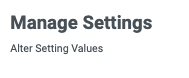 4. From the category drop-down, select 'Payment' and click on 'Search'.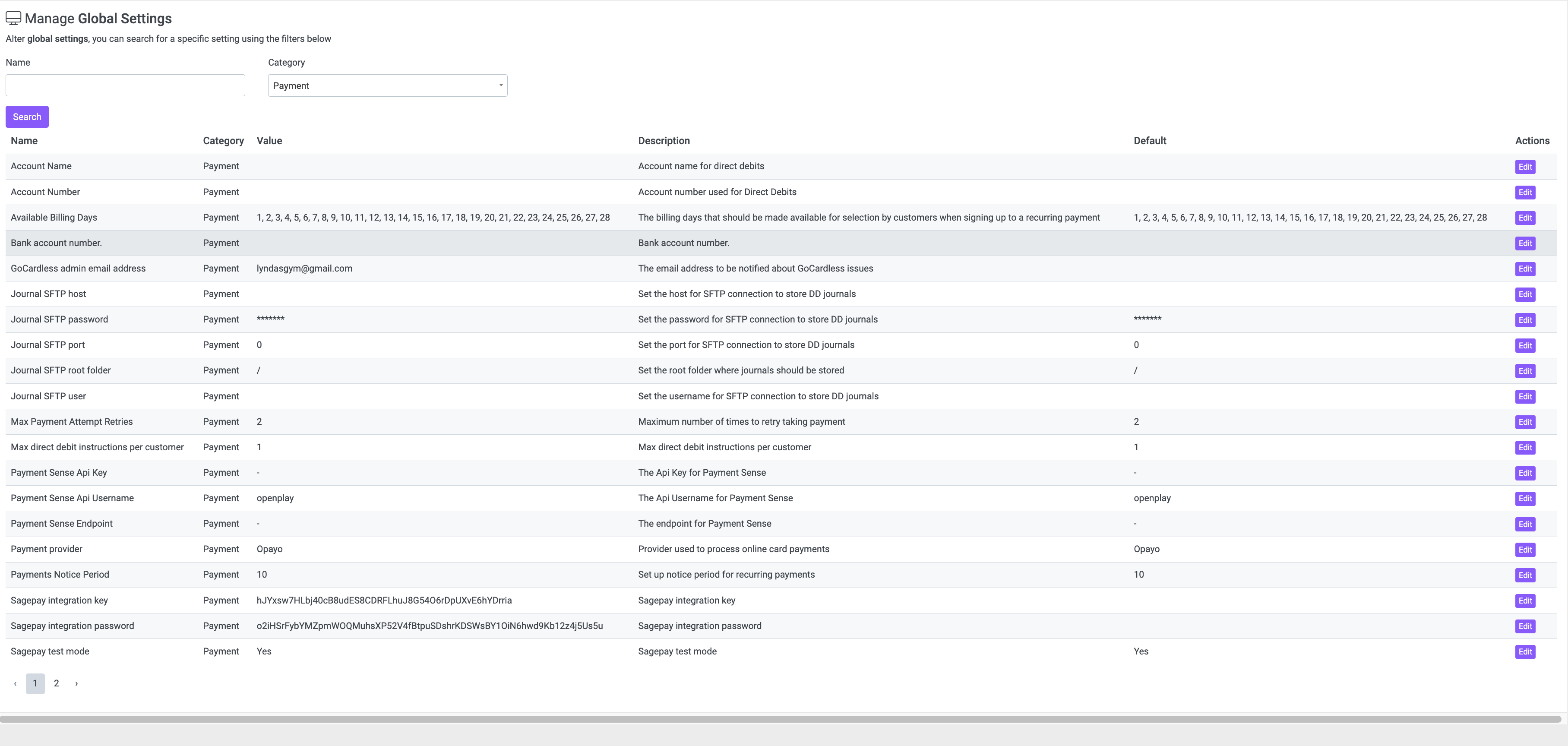 5. Click on Edit on each of them to set them up and click on 'Save'.
Account Name: Account name for direct debits (Not for GoCardless Customers)
Account Number: Account number used for Direct Debits (Not for GoCardless Customers)
Available Billing Days: The billing days that should be made available for selection by customers when signing up to a recurring payment.
Bank account number: (Not for GoCardless Customers)
GoCardless admin email address: The email address to be notified about GoCardless issues (Only for GoCardless customers)
Journal SFTP host: (Not for GoCardless Customers)
Journal SFTP password: (Not for GoCardless Customers)
Journal SFTP port: (Not for GoCardless Customers)
Journal SFTP root folder: (Not for GoCardless Customers)
Journal SFTP user: (Not for GoCardless Customers)
Max Payment Attempt Retries: Maximum number of times to retry taking payment on top of the initial payment attempt (Not for GoCardless Customers)
Max direct debit instructions per customer: Max direct debit instructions per customer (Not for GoCardless Customers)
Payment Sense Api Key: The Api Key for Payment Sense (Do not Use)
Payment Sense Api Username: The Api Username for Payment Sense
Payment Sense Endpoint:

The endpoint for Payment Sense

Payment provider:

Provider used to process online card payments (Opayo or Stripe)

Payments Notice Period: Set up notice period for recurring payments
Sagepay integration key: Sagepay integration key
Sagepay integration password: Sagepay integration password
Sagepay test mode: Sagepay test mode
Sagepay vendor name:
Saved Cards Enabled: Enables / disables the usage & saving of cards during the checkout process. Toggling this setting will schedule current saved cards for deletion, re-enabling the setting will unflag those cards for deletion.
Service User Name: (Not for GoCardless Customers)
Service User Number: (Not for GoCardless Customers)
Sort Code: not for (Not for GoCardless Customers)
Stripe publishable API key:
Stripe secret API key:
Suppress first collection notification (Do not use)