Summary
In this article, we will show you how to manage/set up a User Survey.
The user survey allows you to ask your users questions when they are registering their account.
The survey is mandatory on registration but can be skipped by users at later iterations.
All responses can be downloaded from the reporting module using the 'Moves Survey' report.
Benchmark key metrics, e.g. health, activity levels and wellbeing
Specify how regularly these questions are asked
Compare survey responses over time
Step by Step Guide
1. Go to the Moves Module

2. Go to User Survey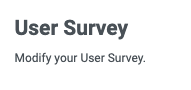 A) Setting up a new Survey
- Title
- Select the number of days between the questionnaire being asked – e.g., 30 days
- Set a buffer to prevent new users being asked to complete multiple
surveys in quick succession – e.g., 14 days

B) Create a new question (or manage existing ones by clicking in Edit)
- Click 'Add New Question'

- Type in the question and click on 'Save'

- Click on Edit

- Add each answer option, e.g., 'Less than 30 minutes; 31-60 minutes' etc and click on 'Save'
You can ask a maximum of 6 questions with a maximum of 6 answers per question.
Questions are asked to new users at intervals from the day that they were set up on the admin panel (e.g., Answer Iteration 1 = the first 90 days, Answer Iteration 2 = days 91-180, etc.).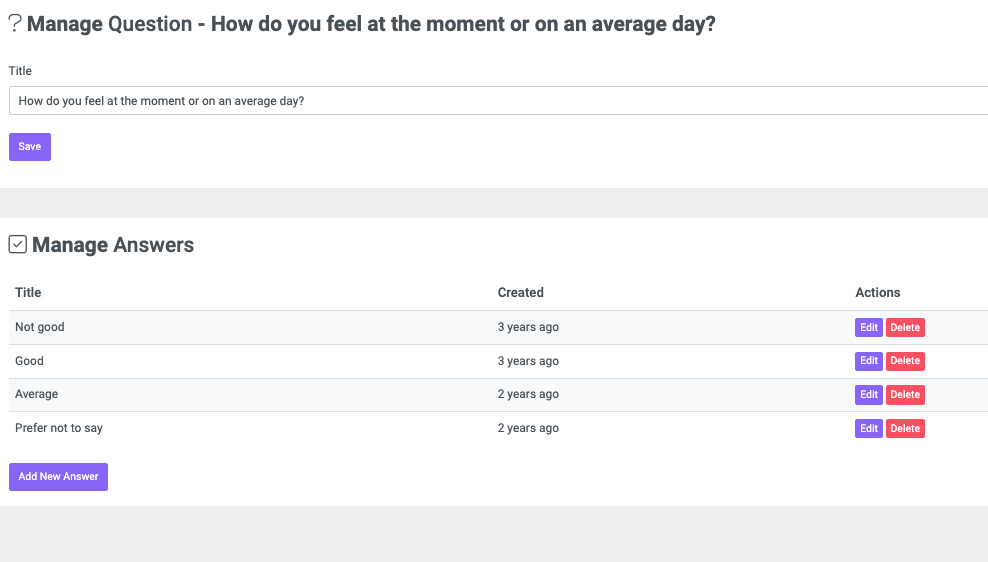 Questions are asked to new users at intervals from the day that they were set up on the admin panel (e.g., Answer Iteration 1 = the first 90 days,
Answer Iteration 2 = days 91-180, etc.)
Days between asking and buffer
Typically, days between asking and buffer are set to:
• 90 days between asking
• 14 days for buffer