Summary
In this guide, we will show you how you can view and modify Users' statuses.
Please note that you can view the statuses of users who have registered a Moves+ account via the 'Users' module or the User report.


Step by Step Guide
1. From the home page, go to the Moves Module

2. Go to Users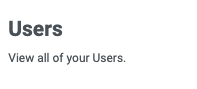 User statuses
Active
An active user has recently engaged with the app, within the timeframe determined by inactive user status (see below). This is an automatic setting, although admins can move users to this
status (see next slide).
Inactive
An inactive user has not engaged with the app for a set period of time (determined by you in the 'Inactive User Threshold' setting). This is an automatic setting and users can still use the app if they are marked as inactive.
Deactivated
Admins set users to 'deactivated' status via the admin panel or via a csv bulk upload (see next slide). A deactivated user will not be able to use the app or create a new account using this email address, unless they are marked as 'active' by admin. Users may be deactivated if they have left the university or been inactive for a long time.
Blocked
Admins set users as 'blocked' via the admin panel (see next slide). A blocked user will not be able to access the app unless they are unblocked by the admin or the blocked time period comes to an end.
GDPR delete
A GDPR delete is requested by the user via the app and once
complete, the user will be marked as GDPR deleted and their
information will be redacted or removed from reports.
Unverified
A user who is 'unverified' has not verified their email address
after registration, for example, because they have entered an
incorrect email address. These users can request a new
verification email to be sent via the app
Set Inactive User Threshold
1. Go to 'Settings'
2. Go to 'Inactive User Threshold'
3. Set the time (in days) a user should become inactive if they do not interact with the app
Change an individual status or make bulk changes
You can change the status of a user, or a group of users, to Active or Deactivated from the admin panel.
Deactivated users
A user may be deactivated because they have left the university, have been inactive for a considerable amount of time, have a duplicate account, or entered the wrong email at registration (e.g. unverified status).
Any user who is deactivated will not be able to log into the app or use their email address to create a new account.
Their tracker will be disconnected when they are deactivated and no additional points will be logged.
Their historical data will not be removed from reports.
Update the status of an individual user
1. Go to the 'Users' module.
2. Search for a user's name or scroll through the list.
3. Click 'View'.
4. Click 'Change user status' to update a status from Active to Deactivated, or Deactivated to Active.
You can only update a user's status if their current status is active or deactivated. For users with other statuses, use the bulk update function.
Blocking users
Blocked users
The purpose of the 'block' function is to temporarily remove a user's right to use the app. You may wish to do this if you suspect foul play from a user or wish to discuss their right to use the app.
You decide how long you want to block a user for (you cannot permanently block a user). If you do not want a user to access the app again, you can deactivate their account.
When blocked:
• The user will be logged out of the app and not able to log back in until they are unblocked or they reach the end of the time period they are blocked for.
• The user's tracker will remain attached – this is so that they are not penalised if they are incorrectly blocked from the platform (e.g. suspected foul play is deemed false).
Viewing, blocking and giving points to users
1. Go to the 'Active Users' module
2. Search for users by name or scroll through the list
3. Click 'View'
4. Click 'Block' to restrict their access to the app and select the amount of time you wish to do this for
5. Click 'Add/Remove points' to amend the points that they are awarded