Summary
For customers' direct debits, you will come across 8 different billing statuses. In this guide, we will list and explain them all.


Step by Step Guide
The billing tab can be found on the customer's profile via FOH or the Customers module.
4. Click on the Billing Tab (You can choose whether you want to show future collections by ticking the box).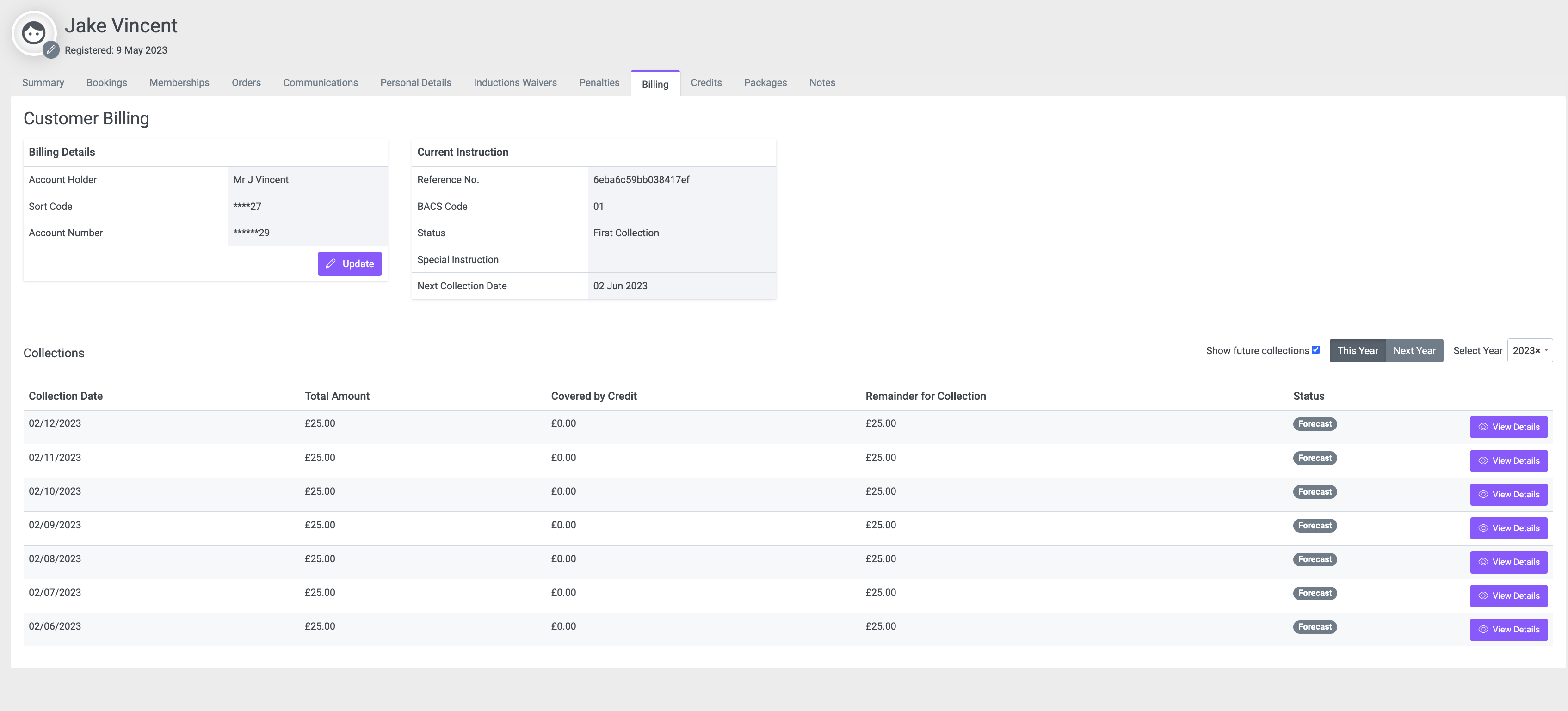 The following statues and descriptions are shown below. These will be displayed to the FOH staff user when investigating the billing tab on the customer profile.
| | |
| --- | --- |
| Status | Description |
| Forecast | A forecast of an upcoming payment, this is subject to change, and may increase or decrease based on whether the fee changes due to a freeze, credit or membership upgrade |
| Pending | The amount shown will be attempted on the given billing day - this fee is now fixed in preparation for a collection attempt |
| Completed | The payment was successfully fulfilled |
| Retrying | At least one attempt to take payment has failed. The system is currently retrying to take payment again |
| Failed | All attempts to take payment have failed |
| Recovering | A recovery fee has been raised (note: very GLL specific, unlikely will show at all for future clients) |
| Deferred | The payment amount is below the threshold and has been deferred to a later collection (this is applicable to GoCardless, who will not make a collection on a value less than £1. Therefore Flow will defer this amount to the next collection - this will have no impact on the membership(s) associated |
| Processing | The system is currently processing, to see whether any more payment attempts can be made. This typically occurs before the 'Retrying' or 'Failed' status |
Upcoming & Historic Payment information
The billing tab now displays a table of collections that can be:
Filtered by 'This Year' or 'Next Year' to view future upcoming collections
Checkbox to only show 'future collections'
Status next to each collection
Note:The changing of statuses is not immediate within the system. It will take approximately 10-15 mins for the status to update. Do not expect a 'retrying' status to show immediately after processing any failed collection attempt.
View Future Collections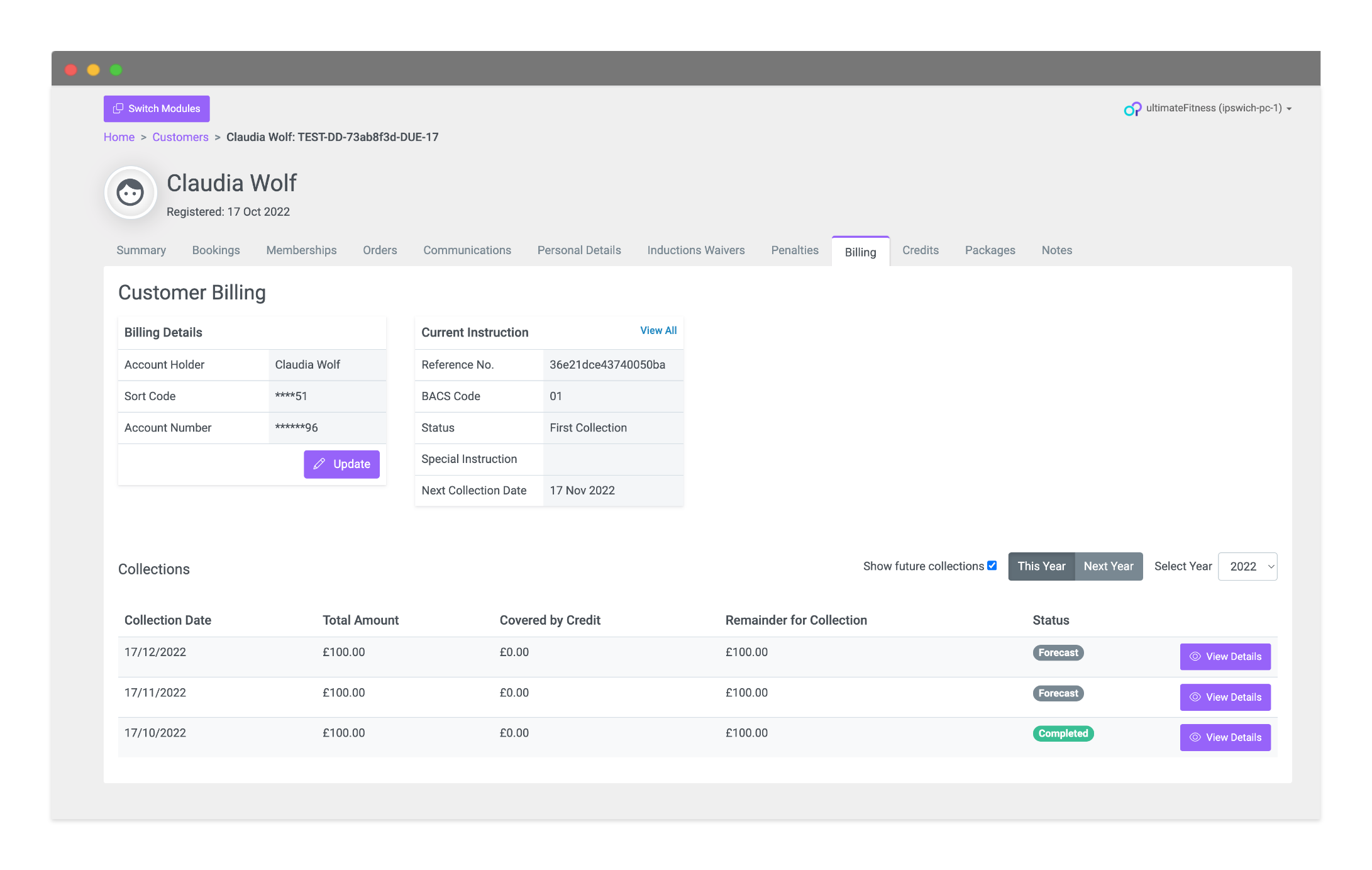 Retrying Status Shown (relevant to the instruction status ofRe-presentation)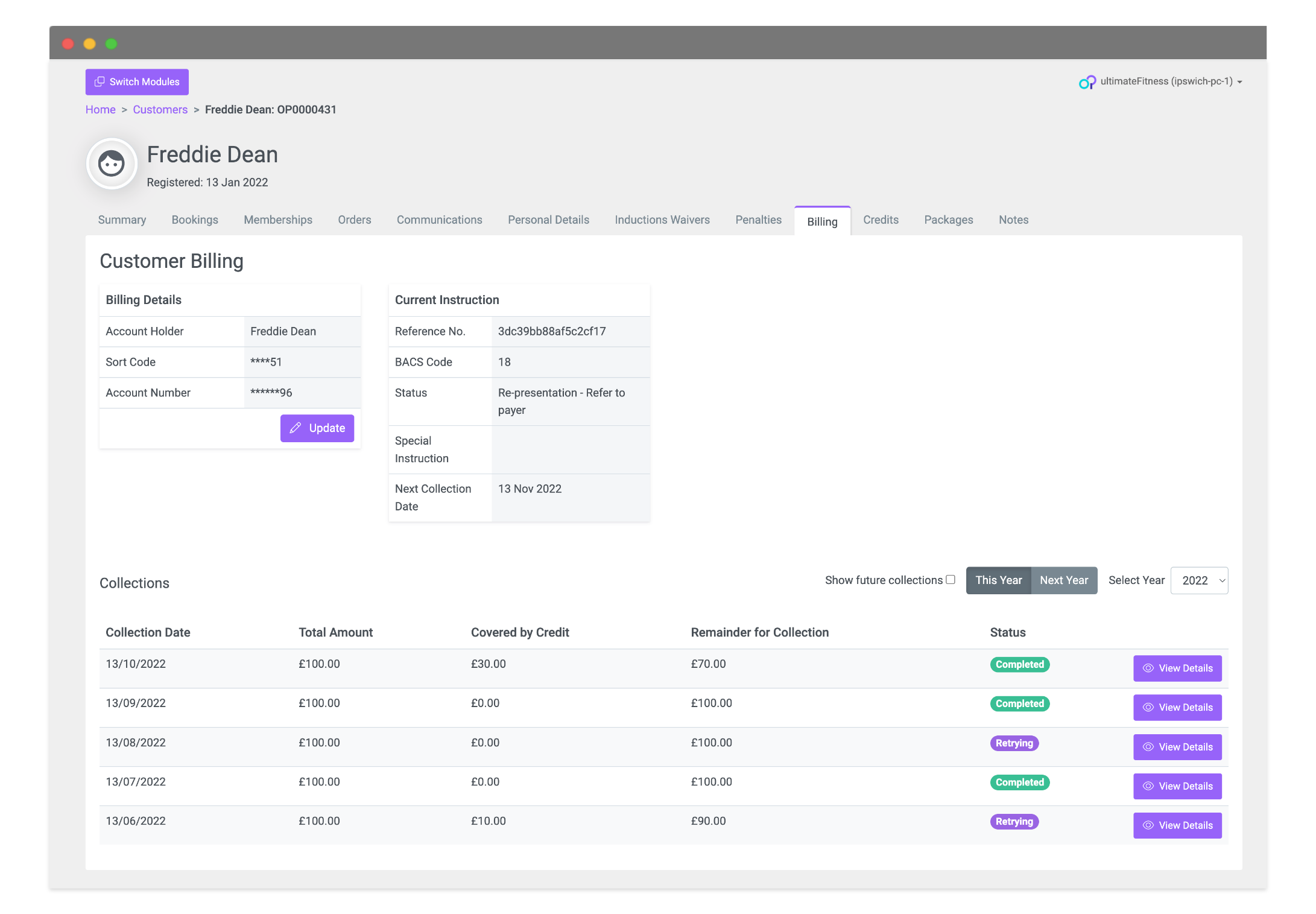 Failed Status - when all payment attempts have been exhausted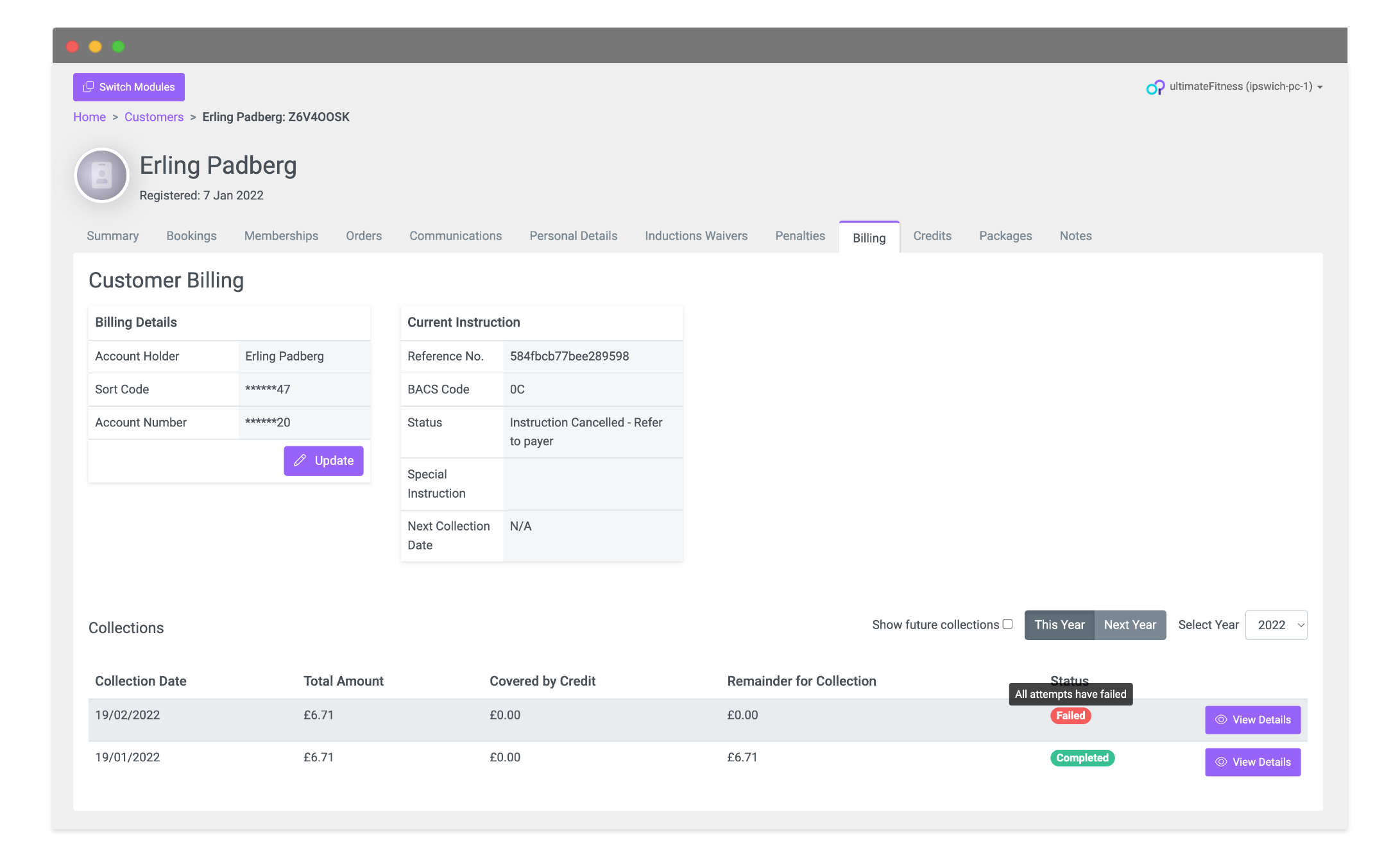 Instruction History
A new enhancement has been added to display the history of a customers Direct Debit Instruction. This will allow staff to troubleshoot any queries regarding the cancellation or changes to previous instructions.
For instance is a customer 'accidentally' cancels an instruction then a member of staff can see when this occurred, or if a customer updated their bank details, when this was changed.
View all instructions (note this will only display when there is more than one historical instruction)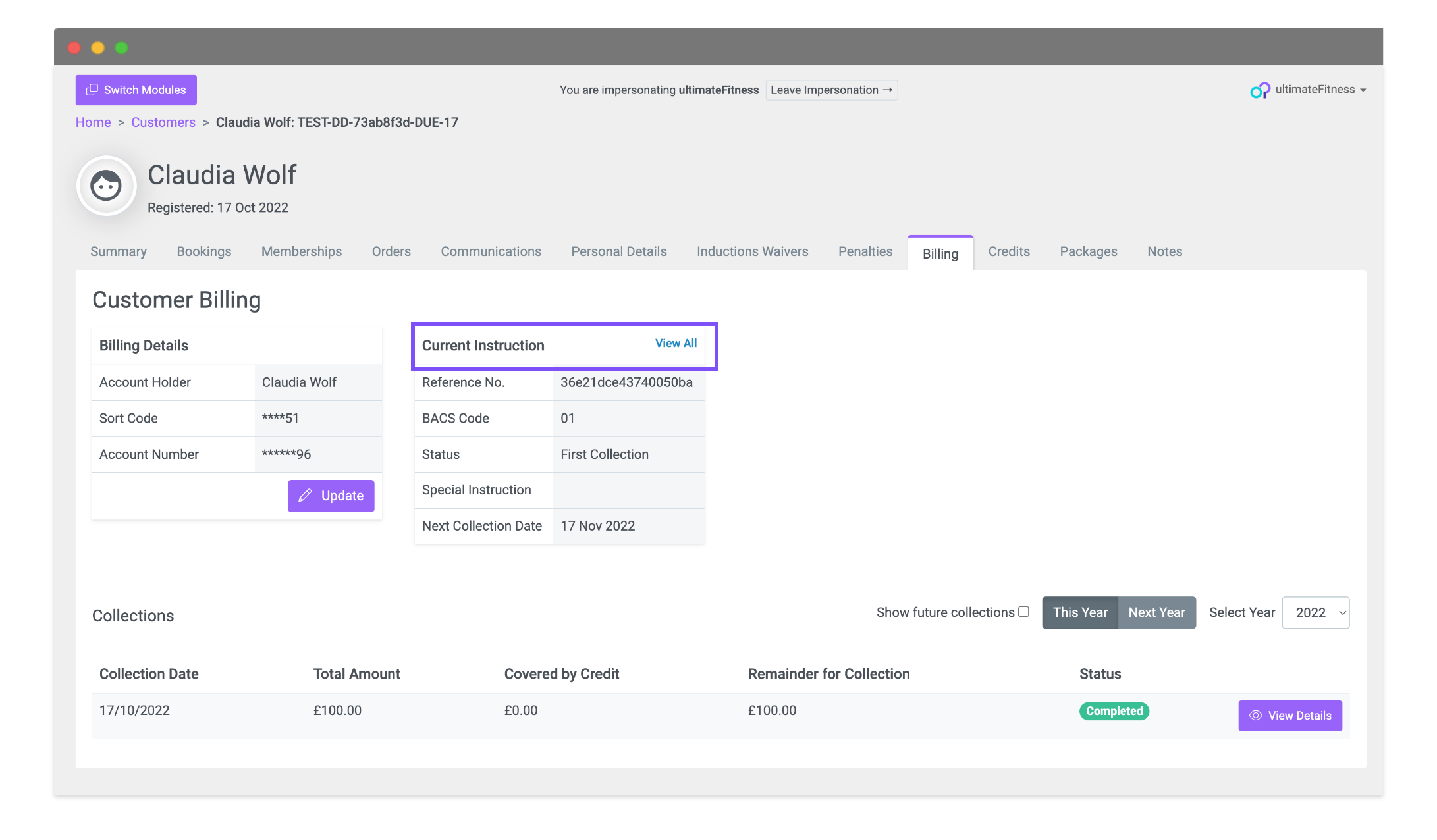 Instruction Detailed view