| | |
| --- | --- |
| Estimated Release Date | 21st November 2023 |
| Estimated Release Time | 11pm |
| Expected Downtime | No expected downtime |
Summary
In this current development cycle the teams have continued to make progress on the new Resource Timeline (Facility Calendar), Flow Connect V2 and completing necessary system infrastructure upgrades. However, this release does also bring three new feature updates which allow for the removal of incorrectly applied member credit, initial improvements to resolving a membership on a suspended status and functionality to have direct join online links for a membership.
---
Removing credit
This update will allow FOH staff to be able to remove credit applied to a customers account. This setting can be turned on and off, to only give specific users permission to do this. However, if a user has the ability to add credit they will also be able to remove it as well.
DEMO - Removing credit and turning feature on/off for a user:
Log in > System config > Security > Edit Role: Everything > Update role permissions for customers
Please also find the below demo recording regarding the above system configuration for staff access to remove credit, along with an example of removing credit on a customers account.
---
Change Suspended Membership
Staff can now change a membership that has been suspended due to eligibility to a different membership type, by utilising the change membership functionality. For example, if a customer has signed up as a student but is not actually a student and hasn't got a student ID to upload as eligibility, then staff can now change their membership to the correct one.
DEMO - Changing suspended membership due to eligibility:
When a customer changes their suspended membership due to eligibility they're currently unable to stay on the same membership. We do plan to add the ability to reactivate the membership in the finance enhancement epic planned for next year.
We do not collect payments if a customer is on a suspended membership, so this membership is in an 'in-active' state. The only time we may collect a payment is If the payment has been sent to BACS usually 10 working days before the collection. For example payment is sent on the 1st for collection on the 10th, and membership is suspended on the 7th then collection still goes through. It wouldn't though for the next applicable billing date, as it would be suspended.
---
Deep Linking
This functionality allows direct links to a membership from join online, to be shared to customers or be included in any marketing materials. When choosing a membership, the URL is now unique and can be shared.
Users can navigate to the online joining journey to the membership they would like to link to. They can then copy and paste the URL for a specific membership and use it to direct potential customers to specific memberships. Please see an example below of use in an email:

When the link is clicked, the user will be taken to the memberships page with the membership already being selected: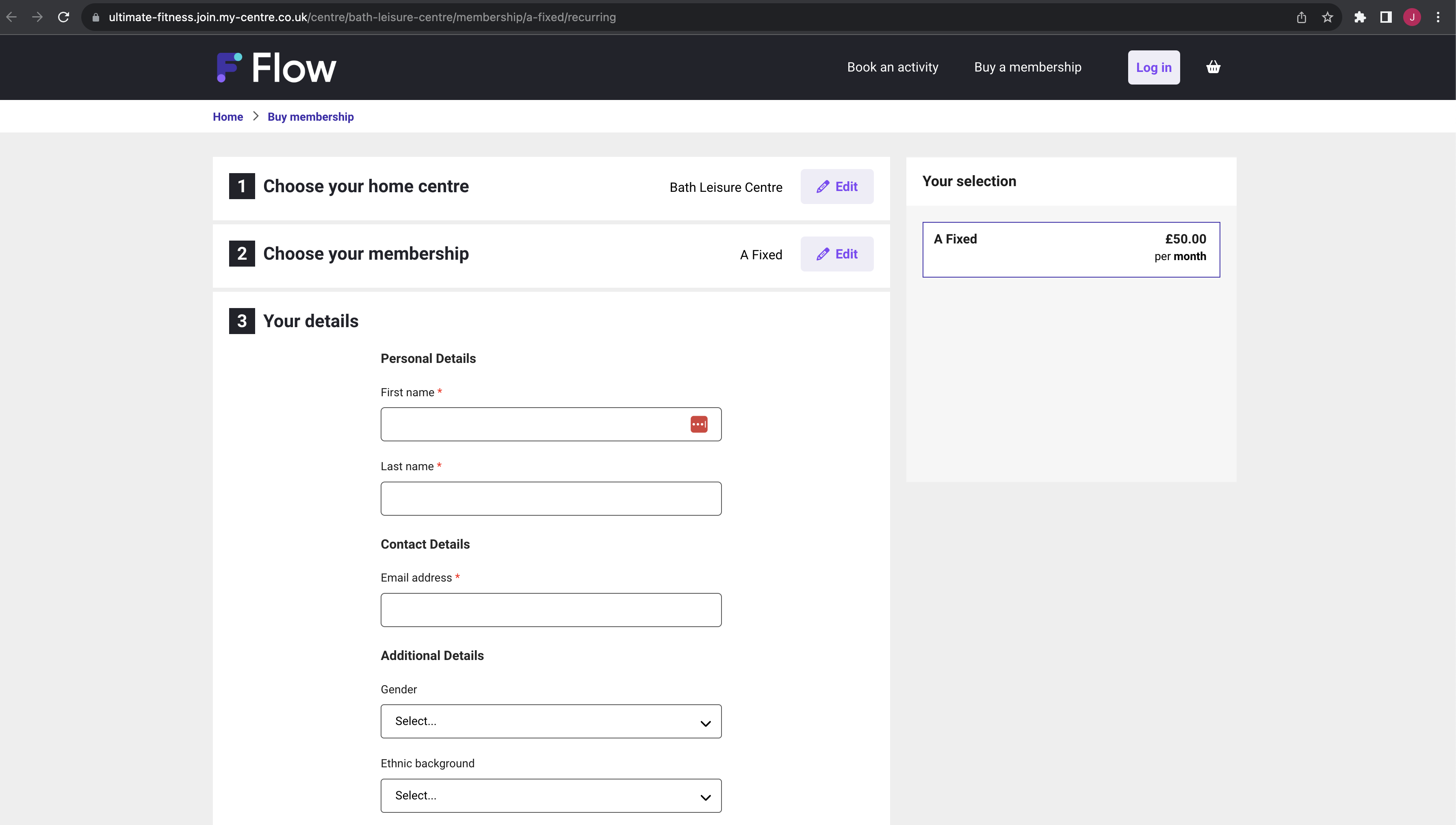 ---