| | |
| --- | --- |
| Estimated Release Date | 25th October 2023 |
| Estimated Release Time | 11pm |
| Expected Downtime | No expected downtime |
Summary
The team have continued to make progress on the Facility Calendar including the date selection feature, activity information slide out formatting and implementing key re-designs. Our Client Success Team will update clients as soon as the work is finalised with an intended release date for the Facility Calendar.
Other areas included in this release are a number of further membership enhancements and design improvements, along with the implementation of a client staff user survey in recently changed areas in Flow so we can receive anonymous insightful feedback from staff users.
---
Membership Enhancements
Enable & Disable Membership Renewal Functionality
This release brings the option to determine how a membership can be renewed, with the added option to disable membership renewal.
The options available are:
- Renew Online (Customer via My Account) & Offline (Staff via the Customer Module)
- Renew Online only
- Renew Offline only
- Renewal Not Available
All existing membership types will be set to Offline & Online as a the default, however if you would like to amend the renewal option for a membership, please follow the guide below:
- Select Membership Module via the Home Screen and then select Membership Types
- Click Edit on the membership type you would like to update
- Select the Advanced tab and chose from the dropdown available the renewal option
- Click Update to confirm these changes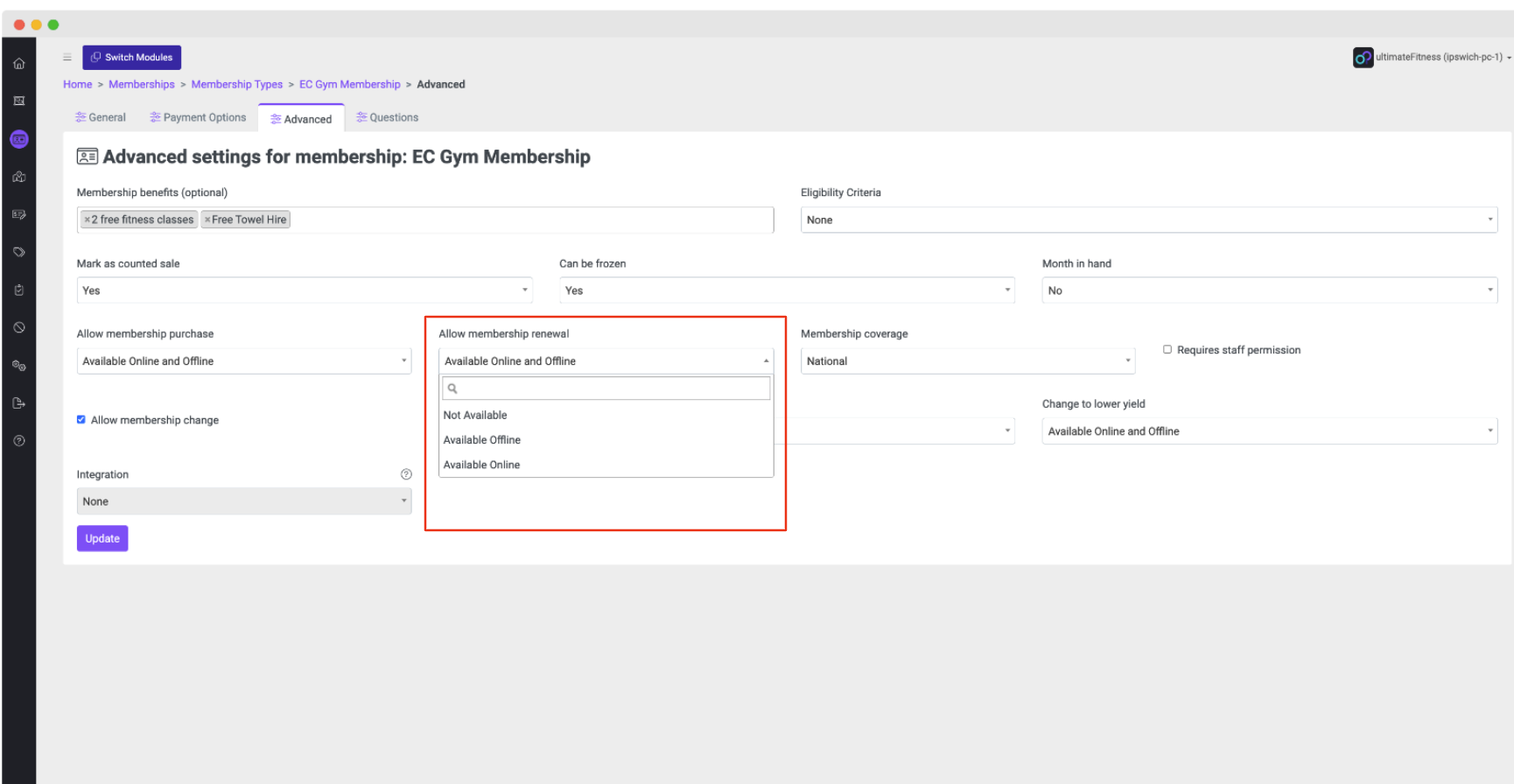 Please also find the below short demonstration video on this feature.
Reinstate Benefit After Cancelled Activity
Previously, in the event a booking/activity that was purchased using a membership benefit is then cancelled by the customer, on behalf of a customer or entire booking/activity was cancelled (i.e. facility closure), the membership benefit used was then not reinstated against the customers membership to be reused.
This release sees the change to this previous behaviour, with Flow now reinstating the benefit accordingly. Please note that reinstating a benefit will only occur in the following scenarios:
- Customer cancels their booking before the cut off period set out in System Configuration.
- Staff cancels a booking on behalf of the customer before the cut off period.
- Staff cancels the entire booking/activity due to facility/resource closure.
Membership benefit will not be reinstated if booking is cancelled after any cut off period as this will be deemed a late cancellation and the benefit forfeit.
Please see short demonstration below on how this process will now work:
Membership Eligibility Document Upload via Customer Module
Following on from the last release, which provided the option to approve a pending membership for eligibility that had been seen in person, this release brings further development to this area by allowing staff to now upload an eligibility document on behalf of a customer via 'manage membership' in the Customer Module. This was noted as a high priority improvement as we understand this has caused operational disruption and did not cater for those members unable to upload eligibility documents online.
When utilising this functionality, staff will be able to preview the document uploaded before submitting to ensure the correct document has been selected: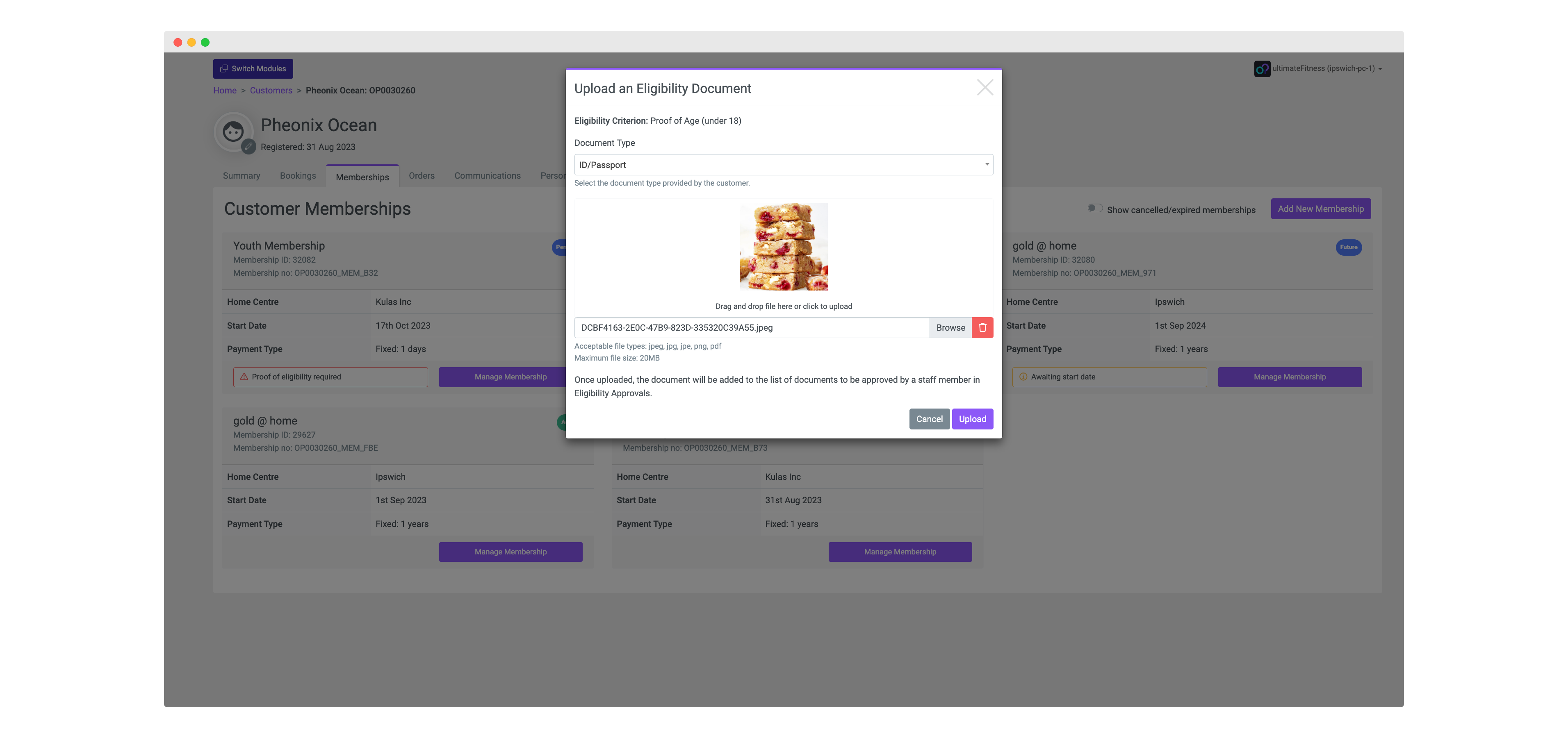 Please note that as a default, all staff users who have access to the Customer Module & 'manage membership' section on a membership, will be able to upload documents on behalf of a customer. Staff users will not however, be able to approve the uploaded document, unless their user access role currently permits it.
If you would like to remove the option for a user access role to be able to upload eligibility document, please edit the relevant user access role by following the below steps:
- Select System Configuration via the Home Screen
- Select Security and Edit for the relevant role
- Navigate to the Eligibility Management section and untick the option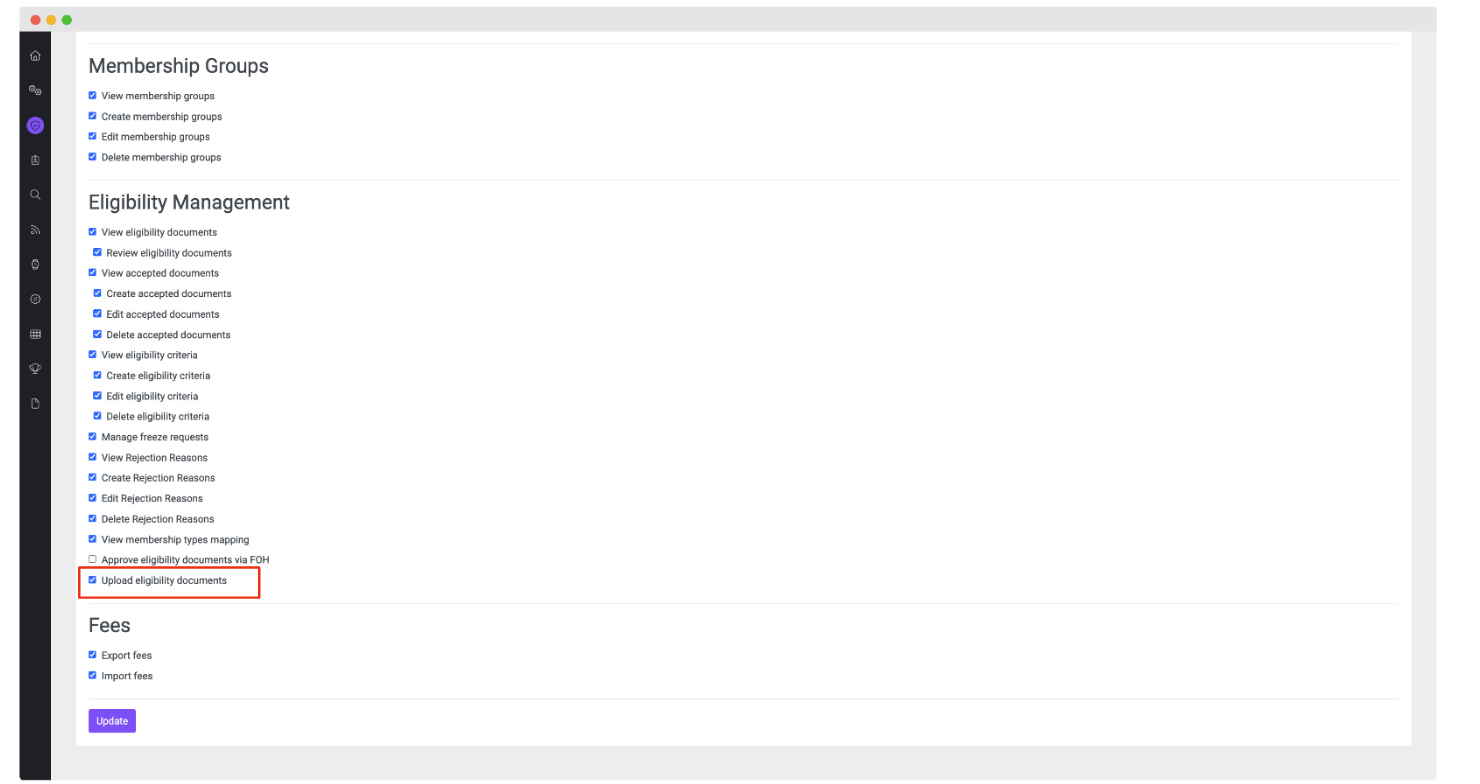 Please also find a short video below that demonstrates:
- How to upload eligibility
- How to approve without uploading eligibility
- How to set your staff member permissions
- How to view the eligibility via the link
Design Improvement for Membership Extension/Renewal Options
Following client feedback that the membership renewal option was not clear in the UI resulting in the use of extending a membership rather than renewing, we have made improvements in this area to provide the two options more clearly. This also includes providing a short description on the intended outcome of a renewal versus an extension, which the appropriate links to either option if a staff user needs to use the other option.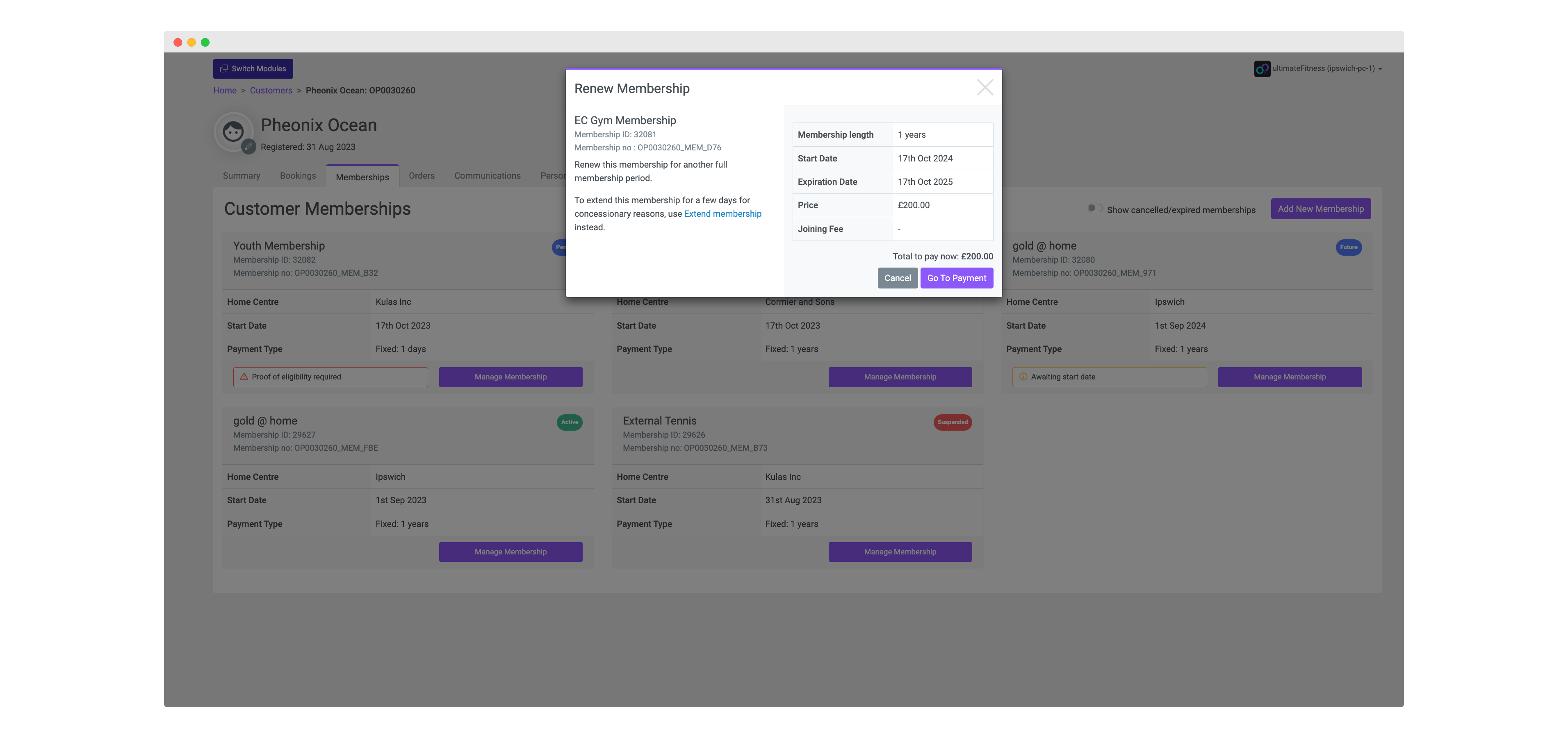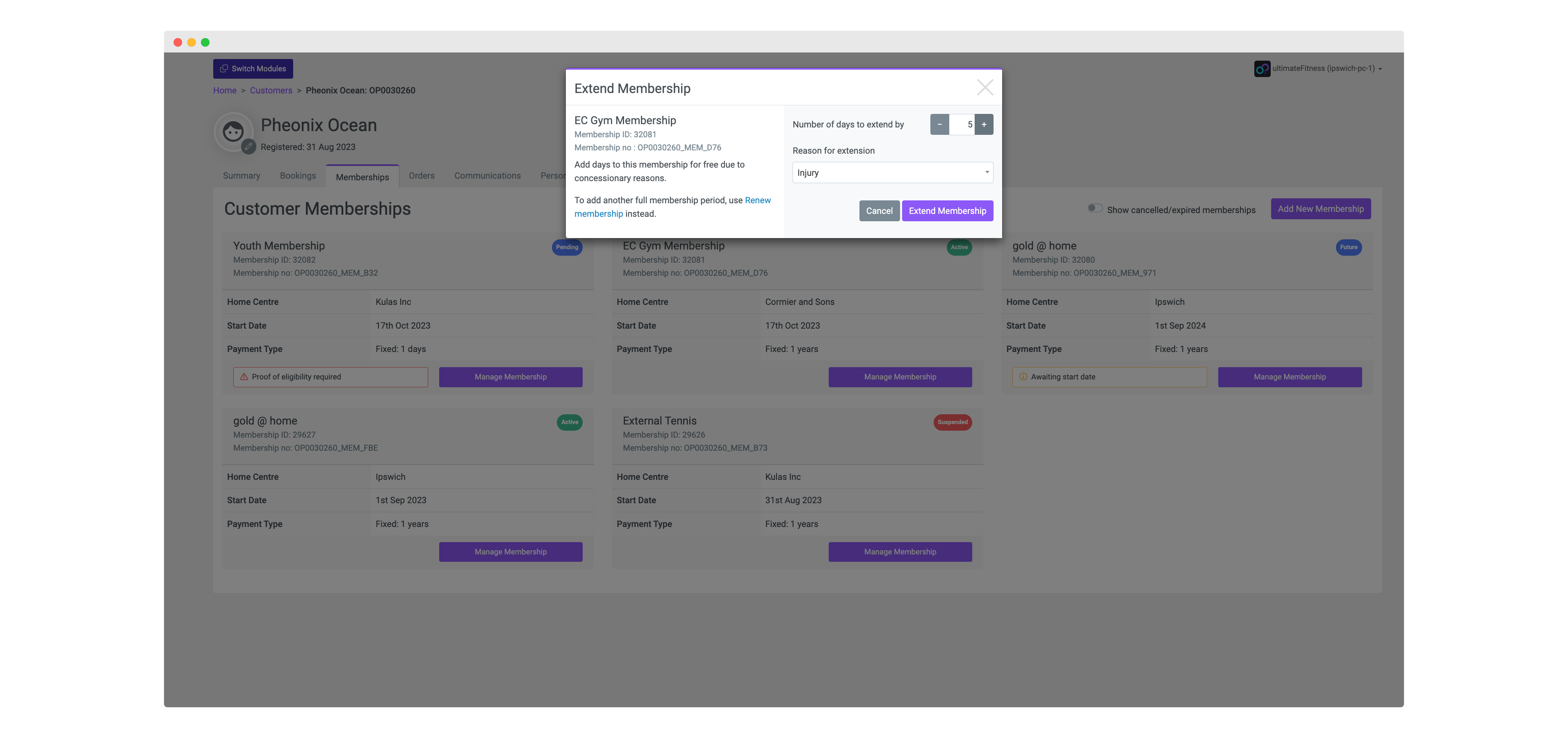 Note: when a membership is renewed, it creates a new membership against the customers account.
Freeze Management Improvement (Unfreeze Option)
This release also brings a change on how to unfreeze a membership. Previously this was done by selecting the Remove button next to a freeze underneath the membership(s). Unfreezing a membership can now be done via the 'manage membership' option and then navigating to the status timeline.
Please see a short demonstration below:
---
Client Staff User Survey (Hotjar)
To gain product feedback on selected features or areas of Flow, we have created three short Hotjar surveys around the following:
Activities Module
New Membership Card Designs
General impression of Flow
Please note, this surveys can be skipped if needed and will present themselves again to a user at a later time.
The aim for implementing these surveys, is to get a CES (customer effort score) throughout various points in time, before and after feature releases to document the reception of our product changes. However they also provide a platform for Flow users to provide us with insightful user feedback.
The surveys have now been made live for clients in the Flow environment.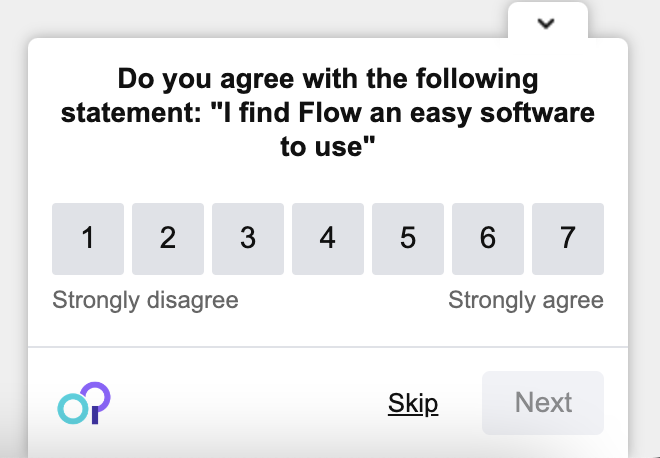 ---
Bugs
- Unable to reconcile till due to negative credit balance.
We noted a number of reported cases where clients were unable to reconcile a till due to Flow stating there is a negative credit balance, despite all totals actually totalling. We will be implementing an improvement to this issue which should prevent this from occurring, allowing users to reconcile tills as intended.