Summary
In this guide, we will show you how to enable the Online Joining Feature.
In order for your memberships to be available to purchase online, this feature must be enabled.
Step by Step Guide
1. From the home page, go to the System Configuration module

2. Go to 'Settings'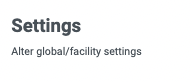 3. Go to 'Manage Settings'

4. Search for 'Enable the Online Joining feature' and click Edit.

5. Select 'Yes' and click on Save